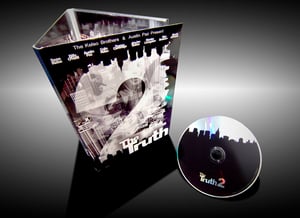 $

24.00
Back at it again!
…And after two solid years of pounding the pavement hard, the Kelso Brothers and Austin Paz proudly present their second installment of THE TRUTH.
Starring the Kelso Brothers, Billy O'Neill, Austin Paz, Franco Cammayo, Jon Jon Bolino, and Montre Livingston. Also featuring the tasteful skating of Murda Johnson and Alex Broskow. Aside from the main feature, this DVD also contains tons of bonus footage including B-roll, Additional edits, a look into Create Originals, and more!
If you enjoyed the first DVD then
this is a must have.
Support a skater run industry.
Believe in the Truth.
***PLEASE NOTE***
This item SHIPS FREE within the United States ONLY.
International shipping is $9.99